FG had 2 jaar geleden 3 doelstellingen: Nederlands kampioen worden, een Internationaal toernooi organiseren en het beste team van Europa worden. De 2e doelstelling gaat dus ook lukken. Namelijk het 1e Internationale footvolley toernooi op de Grote Markt te Groningen op 9 en 10 juni. Binnnenkort wordt een extra pagina gemaakt op onze site.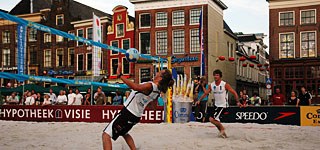 Harry Douma, Jan Wachtmeester en Erik Drenth zijn achter de schermen bezig met de organisatie.
De faciliteiten van Beach Groningen (met o.a. eredivisiebeachvolleybal) kunnen gebruikt worden.
Er volgen nog gesprekken met Pleasure Group (de organisator van Beach Groningen) en sponsoren.
Er zullen teams uit Portugal, Spanje, Frankrijk, Zwitserland, Oostenrijk, Italie, Duitsland en Nederland uitgenodigd worden.
Wij kunnen de volgende personen gebruiken (stuur even een mailtje):
vrijwillgers om het mede te organiseren (ook tijdens het toernooi)
sponsoren. Te denken valt aan shirtsponsoring, reclameborden/vlaggen, programmaboekjes, prijzen, posters of het plaatsen van een stand.
eredivise of 1e divisie spelers betaald voetbal voor een eventueel te spelen demowedstrijden tussen de poulewedstrijden door of vlak voor de finales.
Verdere info volgt.