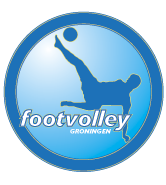 13.01.12
Friday
-Breakfast at Binn'npret from 09.00 till 10.00 am
-You can exercise if you are ready with you're breakfast
-The group matches will be played from 10.00 am till 06.00 pm
-Between 12.00 till 01.00 pm the lunch will be served
-If you don't have to play you can grab a lunch
-Dinner between 07.00 and 9.00 pm
-10.00 pm till party in the city at Café Karakter
Saturday
-Breakfast at Binn'npret at 09.00 am
-After the breakfast, the finals will be played at 10.00 am
-Final at 04.00 pm
-Departure or go to have a drink and dance at Pand 48
Information
On this page we try to give as much information about the upcoming international footvolley tournament in Groningen as possible. This tournament is organised by Footvolley Groningen.
Players can fly to Amsterdam and travel by train to Groningen (2 hours, 29 euro, one way ticket). They can also fly to Bremen and travel by bus to Groningen (2 hours, 32 euro for a two way ticket).
Date and location
The date of the tournament will be: 19th – 21th of january 2012. We will play in Binn'npret (Koningsweg 26a Groningen). See this map. There are 3 courts.
Map
Objects in Groningen you might need to know is on this map. Binn'npret is in yellow and the Grote Markt (Big square) is in blue.
Hotel
At thursday and fridaynight or friday and saturdaynight we stay at University Guesthouse
Food and drinks
We will provide dinner at thursday and breakfast, lunch & dinner on friday and saturday.
Transportation
From the direction Amsterdam you get out at central station Groningen. We can pick you up overthere. Call Erik.
During the tournament we will provide transportation to go to the centre.
Clothing
We will provide 1 singlet. Please bring same shorts.
Program
Thursday
-Arrival of the teams
-Dinner at Binn'pret from 08.00 till 09.00 pm
-Opportunity to train from 04.00 till 11.00 pm
Friday
-Breakfast at Binn'npret from 09.00 till 10.00 am
-You can exercise if you are ready with you're breakfast
-The group matches will be played from 10.00 am till 06.00 pm
-Between 12.00 till 01.00 pm the lunch will be served
-If you don't have to play you can grab a lunch
-Dinner between 07.00 and 9.00 pm
-10.00 pm till party in the city at Café Karakter
Saturday
-Breakfast at Binn'npret at 09.00 am
-After the breakfast, the finals will be played at 10.00 am
-Final at 04.00 pm
-Departure or go to have a drink and dance at Pand 48
Confirmed teams
Man
1. Israel 1: Adar Zino – Matti Pool


2. Israel 2: Amir Zohar – Lior Baum


3. Israel 3: ? – Dudu Tubi


4. Norway: Oyvind Kvangardnses – Vermund Flatoy


5. Spain 1: Pablo Carcelen – Carlos Delgado


6. Spain 2: David Izquierdo – Ruben Requena


7. Germany: Thomas Noack – Daniel Marijanovic


8. Austria 1: Benedikt Hofmann-Wellenhof – Klemens Hofmann-Wellenhof


9. Austria 2: Nikolaus Hofmann-Wellenhof – Leo Breisach


10. Italy 1: Simone Sinopia – Mo Obeid


11. Italy 2: Salamone – Bova


12. Italy 3: Alessandro Bandini – Marco Dodera


13. Switzerland: Michele Politta – Nils Fehr


14. Croatia: Dinko Maras – Ivan Maksic


15. France: Axel Brandebourg – Rafa Jesus


16. Belgium: Jochen van Gestel – Ulli Hulsmans


17. Sweden: Per Örgren – James Blondell – Robin Nordgren


18. Corsica 1: Alex Pagnini – Agnu Plassenzotti


19. Corsica 2: Stephan Colonna – Arnaud Thierry


20. Holland 1: Bart Zantman – Martijn ten Duis


21. Holland 2: Erik Drenth – Jan Wachtmeester


22. Holland 3: Rick ten Dam – Hicham Rbii


23. Holland 4: Jordi van der Sluis – Tarik Konjo


24. Holland 5: Rene van Eijsden – Raymond Oostenbrink


25. Holland 6: Antonio Aurino – Ger Klop


26. Holland 7: Kaspar Schlebusch – Marco Koers

Girls

1. Holland 1: Nynke Karrenbeld – Jorike Olde Loohuis


2. Holland 2:


3. Italy : Rebella Camilla – Eleana Grisolia

Dutch Level Man

1. JP – Wouter


2. Martin – Wietse


3. Jarno – Melle


4. Ashwin – Erwin