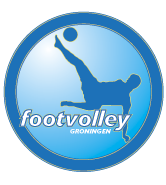 22.05.11
FG organiseert ism de NeVoBo een footvolleytoernooi tijdens de European League volleybal voor mannen. Het Nederlands herenteam speelt op zaterdag 4 juni om 20.00 uur en op zondag 5 juni om 16.00 uur tegen Griekenland. Ook zijn beachvolleybal en bossabal als side-events ingehuurd.
Programma footvolley:
4 juni 14.30-19.30 uur poulefase 8 teams
5 juni 11.00-15.45 uur finales
Smant is sponsor van het toernooi.
Programm:
03-06: arrival hotel Friesland,
Kleine Pelsterstraat 4, (Centre of) Groningen
20.00 pm restaurant
04-06: 14.00-19.30 pm play
20.00 pm restaurant
20.00-22.00 pm Holland – Greece
(volleybal European League men)
00.00 am party of international volleyballtournament (Groningen)
05-06: 11.00-16.00 play (1th place 250 euro, second 100 euro)
16.00-18.00 pm Holland – Greece second match
restaurant and check-out hotel
Deelnemende teams:
Holland 1:Martijn ten Duis en Bart Zantman
Holland 2:Jordi van der Sluis en Erik Drenth
Holland 3:Kaspar Schlebusch en Marcel Birza
Holland 4:Emiel Birza en Rene van Eijsden
Spanje 1:Sergio Antolinos en Juan Pitarch
Duitsland:Mo Obeid en Gerhard Zuber
Zweden:James Blondell en Per Ögren
Frankrijk:Vincent Moreau and Enzo Pesenti
De buitenlandse spelers verblijven in Hotel Friesland vanaf vrijdag tot en met zondag. Op vrijdag kunnen de buitenlands spelers in de stad een hapje eten.
Tijdens het toernooi zullen jongens en meisjes van het Lauwers College, het Noorderpoort College en het Alfa College de wedstrijdorganisatie op zich nemen.
Op zaterdagavond zullen alle spelers acte de presence geven op het DKV-feest in Huize Maas.
Geregeld is:
-geluidsinstallatie + omroeper
-massagetafel + masseuse (Roosmarijn Piek)
-scheidsrechters op zondag (Henk Schut en Henk Woudstra)
-catering (drinken, fruit, diner op zaterdag, lunch op zondag)
-extra catering buitenlandse spelers lunch op zaterdag en diner op zondag)
-singlets
-entreekaarten Holland-Griekenland (tweemaal)
-entreekaarten DKV-feest (Huize Maas)
-prijzengeld (1e plaats €250, 2e plaats €100)
De Nederlandse spelers betalen €30 per speler