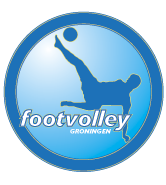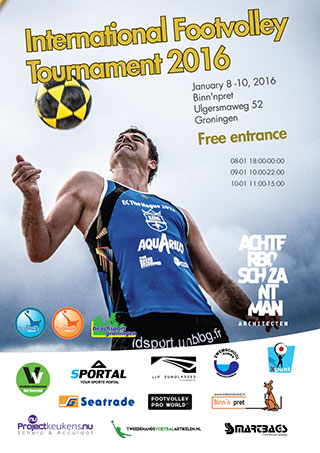 Information
On this page we try to give as much information about the upcoming international footvolley tournament in Groningen as possible. This tournament is organised by Footvolley Groningen.
Players can fly to Amsterdam and travel by train to Groningen (2 hours, 25 euro, one way ticket). They can also fly to Bremen and travel by bus to Groningen (2 hours, 25 euro for a one way ticket).
Date and location
The date of the tournament will be: 8th – 10th of january 2016. We will play in Binn'npret (Ulgersmaweg 52 Groningen). There are 3 courts.
Map
Objects in Groningen you might need to know is on this map. Binn'npret is in yellow and the Grote Markt (Big square) is in blue.
Hotel
Invited teams stay friday and saturdaynight at a apartment of one of the players of Footvolley Groningen or a hotel in Groningen.
Second or third teams of interested countries will stay at University Guesthouse / Hotel
Every night will cost about 65 euro (1 room of two players).
Food
We will provide at Binn'npret:
-breakfast at saturday and sunday
-dinner at friday and saturday
-lunch at saturday and sunday
Drinks you have to buy for yourself. You can drink the water in The Netherlands.
Transportation
From the direction Amsterdam you get out at central station Groningen. Invited teams will get transportation to their apartment or hotel.
Second or third teams of interested countries can walk to the hotel from the trainstation. It's about 10 minutes.
During the tournament we will provide transportation to go to the centre.
Clothing
Please bring your own singlets and shorts. Teams have to wear the same singlets/shorts.
Program
Friday
-Arrival of the teams
-The schedule (about 05.00 pm)
-Start of the tournament at 06.00 pm of the first shift
-Dinner at Binn'pret from 08.00 till 10.00 pm
Saturday
-Arrival of the rest of the teams before 11.30 am
-Breakfast at Binn'npret 09.00 till 11.00 am
-The poulematches and quarterfinals will be played from 10.00 am till 10.00 pm
-Between 01.00 till 03.00 pm the lunch will be served
-If you don't have to play you can grab a lunch
-Dinner between 07.00 and 9.00 pm
-10.00 pm till … some drink in the city. We go to "het Pakhuis"
Sunday
-Breakfast at Binn'npret from 10.00 till 12.00 am
-After breakfast, the finals will be played at 11.00 am
-Between 02.00 till 03.00 pm the lunch will be served
-Final at 03.00 pm
-Departure
Teams men
1. Israël 1: Mati Pool & Adar Zino


2. Israël 2: Oren Zuberi & Mair Hass


3. Israël 3: Barak & Elad


4. Israël 4: Roi Simanton & Itzik


5. Israël 5: Ohad & Yonathan Flash


6. Israël 6: Shai Salis & Gal Levi


7. France 1: Charles Laczny & Wilfried Ferrands


8. France 2: Rudy Ferrandis & Tristan Larose


9. France 3: Julien Caravel & Fabien Grellety


10. Germany 1: Mo Obeid & Victor Gonzalez


11. Switzerland 2: Frank Becker & Alberto Quintas


12. Switzerland 1: Nils Fehr & Benedikt Zwyssig


13. Belgium 1: Ulli Hulsmans & Ruben Veestraeten


14. England 1: Joshua Hinton & Constantinos Skinitis


15. Austria 1: Benedikt Hofmann-Wellenhof & Klemens Hofman-Wellenhof


16. Austria 2: Sacha Wegschneider & Jakob Hofmann-Wellenhof


17. Spain 2: Pablo Carcelen & Juanan Carcelen


18. Spain 1: Carlos Delgado & Dani Martinez


19. Portugal 1: Gustavo Cavaco & Luis Faria


20. Portugal 2: Vitor Vilaca & André Gomes (Andrezinho)



21. International 1: Bruno Santos & Omri Cohen


22. Holland 1: Bart Zantman & Martijn ten Duis


23. Holland 2: Erik Drenth & Marcel Birza


24. Holland 3: Ben Sparenburg & Emiel Birza


25. Holland 4: Mark de Vreede & Kaspar Schlebusch


26. Holland 5: Kevin Heuvelink & Stefan Adams
Teams women
1. Ladies Sweden: Elin Astrid Gustafsson & Iona van der Linden
2. Ladies Holland 1: Nynke Karrenbeld & Jorike Olde Loohuis
3. Ladies Holland 2: Nicoline Birza & Evelyne Dobbinga